25 October 2019, Institute Gallery, State Library of South Australia, Adelaide
The UNESCO/MOWCAP/JFIT/PARBICA Recordkeeping for Good Governance Toolkit – Disaster Preparedness Workshop was successfully delivered as a high profile component of the 5-day Designing the Archive Conference held from 21 to 25 October 2019. Designing the Archive 2019 was an international archives conference presented by the Australian Society of Archivists (ASA), Archives and Records Association of New Zealand Te Huinga Mahara (ARANZ), the International Council on Archives (ICA) and the Pacific Regional Branch International Council on Archives (PARBICA). It attracted over 600 delegates from 76 nations. The partners and the audience ensured a high profile for the workshop, and it was recognised as one of the key practical training elements. There were 31 delegates at the Workshop, representing 13 nations.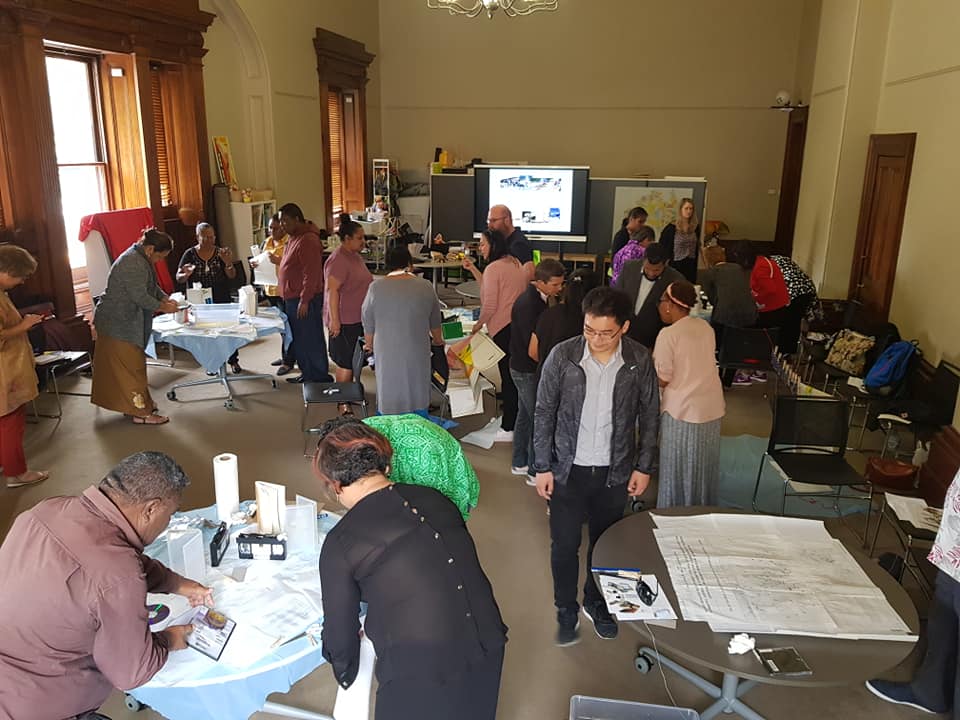 PARBICA were honoured to have two expert facilitators present the workshop. Brandon Oswald is the Founder/Executive Director of the non-profit organization, Island Culture Archival Support (ICAS) based in San Diego, California. ICAS is dedicated to providing voluntary archival assistance to cultural heritage organizations in the Pacific Islands. He has worked extensively in matters involving records preservation and disaster preparedness throughout the region. Brandon is an active member of the Pacific Regional Branch International Council on Archives (PARBICA), and serves on the ICA Expert Group- Emergency Management and Disaster Preparedness. Emilie Leumas is a certified archivist and certified records manager, is Director of Archives and Records for the Archdiocese of New Orleans. She currently serves as chair of the Section for Archives of Faith Traditions and chairs the Expert Group for Emergency Management and Disaster Preparedness. She has served as president of the Association of Catholic Diocesan Archivists. Emilie received national and international recognition for her efforts in disaster recovery after Hurricane Katrina. She has presented conference papers and guest lectured at national and international meetings on subjects including archival research methods, archives management, records management and disaster recovery.
The facilitators engaged the delegates in interactive and conversational modules before a lunch break. After lunch the practical element of recovering a wide range of record formats from water damage was very well received and all delegates participated and worked together in small teams. As well as practice in the practical recovery, it was an exercise in forming responsive teams with people unfamiliar, and quickly determining key team roles.

The first component of the workshop was the launch of a brochure/information sheet that links the PARBICA Toolkit modules and other relevant guidelines. Dianne Macaskill, vice-chairperson of MOWCAP, launched a draft Recommendation brochure that will shortly be on the MOWCAP website and requested feedback from the participants. The Toolkit covers many of the guidelines needed by Pacific National Archives to implement the Recommendation. Feedback was sought as part of a workshop survey.

Using interactive components, delegates were shown the four basic stages of disaster preparedness: mitigation, preparedness, response and recovery.
The workshop taught participants to consider all situations and levels of a disaster's impact, particularly those that cause damage to records, collections, and disrupts the flow of business and services. It inspired participants to be more proactive before, during and after a disaster event occurs at their organization. The workshop covered risk assessment/mitigation, disaster plans and supplies, disaster team planning, salvage priorities, staff responsibilities, response techniques, recovery efforts and resources. It included a practical hands-on exercise to recovery water damaged records in a broad range of formats.

The workshop also built relationships between participants that will allow them to pool together resources, expertise and experience in the event of a disaster.
The Workshop was based on the PARBICA Recordkeeping for Good Governance Toolkit modules:
Guideline 20: Developing a Disaster Preparedness Plan
This guideline is aimed at equipping archivists and records managers to prepare for a disaster of any size or complexity. It steps through the stages of developing a disaster preparedness plan by providing guidance and examples.
Guideline 21: Developing a Disaster Response Plan
This guideline supplements Guideline 20 by breaking down the elements of a response plan to form part of a larger Disaster Preparedness Plan.
Guideline 22: Developing a Disaster Recovery Plan
This guideline supplements Guideline 20 by laying out a plan for effective recovery to form part of a larger Disaster Preparedness Plan.

Thirteen nations were represented: Australia, Fiji, Hong Kong, Kiribati, New Caledonia, New Zealand, Papua New Guinea, Samoa, Solomon Islands, The Gambia, Tonga, Tuvalu and Vanuatu. This included the four nations that met our highest priority, being categorised by UNESCO as both 'Small Island Developing States' (SIDS) and 'Least Developed Countries', plus being PARBICA members. These were Kiribati, Tuvalu, Solomon Islands and Vanuatu. A further four countries were both UNESCO SIDS and PARBICA members: Fiji, Papua New Guinea, Samoa and Tonga. Two further nations, New Caledonia and The Gambia, are SIDS Associate members. Overall, 80% of the delegates (25 of 31) were from UNESCO target nations.

The workshop was made possible through a grant from UNESCO of USD11,000. In addition, PARBICA supported delegate attendance by providing a range of travel, accommodation and registration support to an additional total of over USD20,000. Some of this was offset by sponsorship raised in direct support of delegate attendance to a total USD9,000. PARBICA provided funds and administrative support to cover Workshop promotion, printing, social media, and catering. A PARBICA representative was also provided throughout the workshop to render any necessary support and assistance to the facilitators.
Feedback
Many delegates provided feedback about practical steps they or their organisation will now take in response to the learning they gained from the Workshop. This includes:
I found exactly what I was looking for: help me to finalize the "SPC Records Management policy" with the last point which was missing on it: Disaster Plan.
Bertrand Daumas, General Administration Officer, Pacific Community
For immediate actions, I will liaise with our property manager to clear/cut down big trees that are on the vicinity of the archive building as it might fall over during the cyclone season approaching. I will also make sure that we have all our disaster management supplies in place and in an easy to reach area.
Miraneta Williams-Hazelman, Knowledge Manager, Secretariat for the Pacific Regional Environment Project (SPREP), Samoa
Sponsor thanks
This workshop was provided by the Japanese Funds in Trust (JFIT) in partnership with the UNESCO Memory of the World program. The workshop is a tangible activity for the JIT to advance of one of their key strategies, a 'global policy framework for sustainable preservation of documentary heritage through disaster risk reduction and management'.