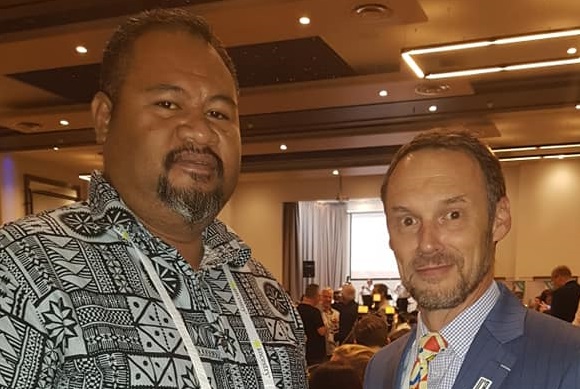 Talofa everyone!
Globalization, technology, and innovations have set new platforms for the archivist professions these days. As an archivist, we all try our very best to adapt and mitigate these changes and yet it is still a challenge. The fast pace emerging of new technologies could make our profession to question the integrity and authenticity of our records. So, as Pacific Archivist I challenge you all to think strategically, be innovative and get yourselves organized so that you and I can succeed in the long run and be able to adapt and make critically important decisions for our archives.
Archives, as we all know, are critically important as they store impairment valuable records of people and of course businesses of Government. Over the years most Pacific Archives are being exposed to the environment and human threats. As an archivist, your role is to protect your collection but with limited resources, some of these valuable records end up damaged. In order to minimize the frequent occurrence of such problems in our profession, we need to be strategic thinkers. To think strategically is to set goals, and with these goals, it will provide us a star to steer by.
I know us Pacific archivist we have been drifting like jellyfish along with the tide when we do not set or have goals for our archives. But we need to have pockets or a bag to hold something. Your goals will serve as pockets or bags to fill things or more specifically, hold our achievements. Goals give us energy and drive us to achieve something. We need GOALS in our profession so that we Pacific archivists can see changes that affect us in the near future. We need SMART GOALS so that we can align ourselves and relate to future or long term challenges. We need to set SMART goals and these goals must be Specific. To shoot an arrow you must have a specific target. You need to know where your records will end up to, what are the specific measures you must take in order to make it happen. Your goal must be Measurable, you need to impose proper step by step in order to move your records successfully to a safe place. Goals should be Attainable and Realistic so that you can remain focus and set a realistic target and make them achievable. Then lastly, your goals must be Time-based. Goals need to be time-bound. Without time-based goals, we tend to procrastinate. We defer things; "leave it to tomorrow" but remember tomorrow never comes.
I challenge you all to be strategic thinkers for the benefit of Pacific Archives. Please remember that Goals without action will always remain a DREAM. We need to WALK the TALK because there is no point talking but without action, it becomes NATO: No Action, Talk Only!
Fakafetai lasi,
Noa
Noa Petueli Tapumanaia
Tuvalu Chief Librarian and Archivist
President, Pacific Regional Branch of the International Council on Archives